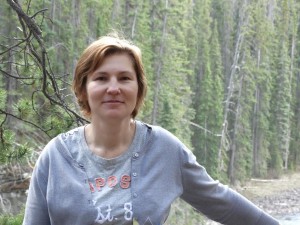 Svitlana Melnyk is a lecturer at the Department of Slavic and East European Languages and Cultures, Indiana University. She teaches Ukrainian language, Russian language, and Intro to Ukrainian culture courses.  Her areas of expertise are bilingualism and education, linguistic minorities, language policy and language planning. She has participated in a number of projects and conducted research about ethnic and linguistic diversity in Ukraine.
Focus in the project:
In the project Svitlana investigates the topic of education in minority languages in Ukraine. She concentrates of the following questions: the educational policy of Ukraine and its relations with the education of minorities and maintaining their languages; challenges and perspectives of education in native language; and situation with the state language in minority schools.
 Select publications:
Book
 Melnyk, S. & Csernicsko, S. (2010) Etnichne ta movne rozmaittia Ukrainy (Ethnic and linguistic diversity of Ukraine). Uzhhorod:  PoliPrint
Articles
Hogan-Brun, G. & Melnyk, S. (2012) Language policy management in the former Soviet sphere. In Spolsky B. (ed.) The Cambridge Handbook of Language Policy, pp. 592-616
Melnyk, S. & Csernicsko, S. (2010)  Movna polityka SRSR (1945-1991) (Language Policy in the USSR (1945-1991)). In Vehesh M. & Fedynets C. Zakarpattia 1919-2009 rokiv: istoria, polityka, kultura (Transcarpathia 1919-2009: history, politics, culture). Uzhhorod: Lira, pp. 668-681
Melnyk, S. & Csernicsko, S. (2010) Movna polityka v nezalezhni Ukraini (Language Policy in Independent Ukraine). In Vehesh M. & Fedynets C. Zakarpattia 1919-2009 rokiv: istoria, polityka, kultura (Transcarpathia 1919-2009: history, politics, culture). Uzhhorod: Lira, pp. 681-701
Bilaniuk, L. & Melnyk, S. (2008) A tense and shifting balance: Bilingualism and education in Ukraine. International Journal of Bilingual Education and Bilingualism, Volume 11, pp. 340-372
Csernicsko, I. & Melnyk S. (2007) Az ukrajnai kisebbségek és a nyelvi oktatás (Minorities of Ukraine and education in native language). In Orosz I. (ed) Magyarok a Tisza-forrás környékén. A felső-Tisza-vidéki magyarok anyanyelvi-oktatási helyzete egy kutatás tükrében. Ungvár: PoliPrint, pp. 120–148