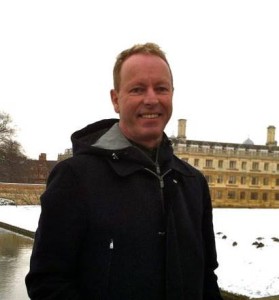 Dr. David R. Marples is Distinguished University Professor, Department of History & Classics, University of Alberta. He holds a PhD in Economic and Social History from the University of Sheffield (1985). At the University of Alberta, where he has been employed since 1991, he received a McCalla Professorship in 1998, the Faculty of Arts Prize for Full Professors in 1999, the J. Gordin Kaplan Award for Excellence in Research in 2003, a Killam Annual Professorship in 2005-06, and the University Cup, the university's highest honor, in 2008. He has held several major awards from the Social Sciences and Humanities Research Council of Canada (SSHRC), most recently for the topic "History, Memory, and World War II in Belarus."
Dr. Marples is President of the North American Association for Belarusian Studies (NAABS), the main academic organization dealing with Belarusian scholarly research on this continent. He has served as a consultant on Belarus to a wide array of government and nongovernment organizations, including the US Embassy in Minsk, the Foreign and Commonwealth Office of the United Kingdom, and the Department of Foreign Affairs and International Trade, Canada, as well as Voice of America, RFE/RL. He is an editorial writer on Belarus for Belarusian Review and writes regularly for the Eurasian Daily Monitor, The Jamestown Foundation. He is a member of the Advisory Board on Belarus for the German Marshall Fund of the United States. He is a member of the editorial board of several journals, including Belarusian Historical Review (Bialystok, Poland), Canadian Slavonic Papers, Nationalities Papers, Eurasian Geography and Economics, and the Journal of Ukrainian Studies.
Dr. Marples is author of fifteen single-authored books and two edited books on topics ranging from 20th Century Russia, Stalinism, contemporary Belarus, contemporary Ukraine, and the Chernobyl disaster. His recent books include 'Our Glorious Past: Lukashenka's Belarus and the Great Patriotic War (Stuttgart, Germany: Ibidem Verlag, 2014), Heroes and Villains: Creating National History in Contemporary Ukraine (Budapest: Central European University Press, 2008) and The Lukashenka Phenomenon (Trondheim, Norway, 2007). He has written more than 200 scholarly articles in refereed journals and his speaking engagements in the recent period have included the universities of Toronto, London, Tokyo, Western Australia, and the Lazarski University in Warsaw, Poland. His chief areas of interest are Belarus and Ukraine, and he is Director of the Stasiuk Program on Contemporary Ukraine at the Canadian Institute of Ukrainian Studies, University of Alberta.