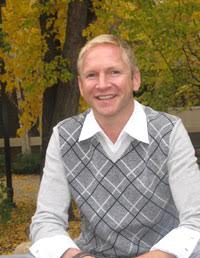 Prof. Randolph Wimmer, Dean (Interim)
Faculty of Education, University of Alberta

Research Interests are postsecondary educational administration, leadership, and governance, teacher education, student affairs, experiential learning in professional education
Biography
Randolph Wimmer came to University of Alberta from the University of Saskatchewan where he had been on faculty in the Department of Educational Administration. He completed his doctoral work at University of Alberta in the area of Postsecondary Education and his Masters is in the Social and Cultural Contexts of Education. Randolph's undergraduate degree is in Secondary Education. Before teaching junior and senior high school in the County of Athabasca, he worked in the Registrar's Office (U of A). Prior to becoming a faculty member, Mr. Wimmer was an administrator in the U of A teacher education program and was responsible for the coordination of the student teaching program. While most of his scholarship is situated in teacher education, its implications extend more broadly to the study of postsecondary education. In his research, Randolph usually employs mixed methods though his research passions lie in using interpretive frameworks, specifically narrative and life history work.
Projects
Reflections of First Nations Beginning Teachers (SSHRC project; Principal Investigator)
Regional Albertan's Views and Perspectives on University Collaborative Degrees (Principal Investigator)
Reaching Your Potential: A Study of Undergraduates' Persistence in Science (Principal Investigator)
A Multidisciplinary Study of Field Experiences in Higher Education (SSHRC funded)
Looking Back, Looking Ahead: The Academic Development of Education Professoriate
Stories of Teacher Educators (Doctoral Research)

Refereed Journal Articles: (*=graduate student)
*Maina, G., Caine, V., Mill, J. & Wimmer, R. (in review) Exploring the meaning of living with HIV as a chronic illness in Kenya: A narrative inquiry. Submitted to Sociology of Illness and Health.
*Park, K., Wimmer, R., Caine, V. (2014). The Experiences of Advanced Placement and International Baccalaureate Diploma Program Participants: A Systematic Review of Qualitative Research. Journal of Advanced Academics, 25(2), 129-153.
*Vergis, E., Wimmer, R., Shanahan, M-C (2014). The role of concepts of evidence in teaching of science. Alberta Science Education Journal, 43(2), 36-41.
*Schmaus, D., & Wimmer, R., (2013). Government policy and postsecondary education in Alberta: A 'field theory' analysis. Alberta Journal of Educational Research, 59(1), 1-16.
Wimmer, R., *Legare, L., *Arcand, Y., Cottrell, M. (2009). Experiences of beginning Aboriginal teachers. Canadian Journal of Education, 32(4), 817-849.
Ralph, E., Walker, K., & Wimmer, R. (2009). The practicum across professions: Views of post-practicum students. Journal of the International Society for Teacher Education, 13, 43-52.
Ralph, E., Walker, K., & Wimmer, R. (2009). Deficiencies in Practicum Phase of Field-Based Education: Students' Views. Northwest Passage Journal of Educational Practices, 7(1), 74-86.
Books
Ralph, E., Walker, K., & Wimmer, R. (Eds.) (2010). The practicum in professional education: Canadian perspectives. Calgary, AB. Temeron/Detselig Publishers.
Book Chapters (7)
Taylor, A., Watt-Malcolm, B., Wimmer, R. (2013). Hybridity in two Canadian provinces: Blurring institutional boundaries. In T. Deissinger, J. Aff, A. Fuller and C. Helms Jorgensen (Eds.). Hybrid Qualifications: Structures and Problems in the Context of European VET Policy (pp. 165-180). Bern, Switzerland: Peter Lang.
Wimmer, R. (accepted). The 4 Rs revisited, again: Aboriginal education and implications for leadership in higher education. In L. Shultz & M. Viczko (Eds.) Assembling and Governing the Higher Education Institution: Democracy, Social Justice and Leadership in Global Higher Education. Palgrave. (17 pages)
Wimmer, R., *Legare, L., *Arcand, Y., Cottrell, M. (2010). Reflections of Indian Teacher Education Program Graduates: Considerations for educational policy and research. In J. P. White, J. Peters, D. Beavon, & P. Dinsdale (Eds.). Aboriginal Policy Research: Learning, Technology, and Traditions (pp. 61-80). Toronto, ON: Thompson Educational Publishing.
Wimmer, R., *Legare, L., *Arcand, Y., Cottrell, M. (2010). Reflections of First Nations Teachers on Field Experiences. In E. Ralph, K. Walker, R. Wimmer (Eds.) The practicum in professional education: Canadian perspectives (pp. 139-156). Calgary, AB: Temeron/Detselig Publishers.
Foster, R., Wimmer, R., Snart, F., Winter, M. (2010). Field experiences in teacher Education: What is and what could be. In T. Falkenberg and H. Smits (Eds.). Field Experiences in the Context of Reform of the Canadian Teacher Education Programs (pp. 187-224). Faculty of Education of the University of Manitoba. Winnipeg, MB.
Ralph, W., Walker, & Wimmer, R. (2010). The field experiences component of Education for the professions: Canadian findings. In N. Simmons (Ed.). Opportunities and new directions: Canadian scholarship of teaching and learning (pp. 89-99). Centre for Teaching Excellence. University of Waterloo, Ontario.
Professional Research Reports
Snart, F. ("ghost" written by R. Wimmer) (2014), Foreword for A Week in the Life of Alberta School Leaders. Research report published by the Alberta Teachers' Association. (2 pages)
Amhrein, C. *Stovin, D., *Nguyen, T., & Wimmer, R (2012). Building Success in a Global University. Set of 6 presentations for Peking University. Retrieved from: http://www.education.ualberta.ca/modules. University of Alberta. (16 pages)
Wimmer, R. (2012) Strengthening Higher Education Relations in Africa. University of Alberta report to the Association of University and Colleges of Canada (AUCC). (22 pages)
Projects:
Internationally Educated Teachers Bridging Project (Principal investigator)